Rock Rousseau
Epic Stuffed n' Soaked Burritos
Updated: May 25, 2020
I've compiled my collection of burrito recipes, from Classic Beef Burritos to Blue Buffalo Burritos. Soaking them in sauce ensures a tender and moist shell on the outside, while stuffed with plenty of goodies on the inside. It's surprisingly easy to customize your burritos so that they are perfect and unique. After following the Classic Beef Burrito below, see the other variations that we ROCK OUT from following the basic recipe and simply replacing the meat, cheese, veggies, and sauce to form an infinite variety of delicious stuffed n' soaked burritos.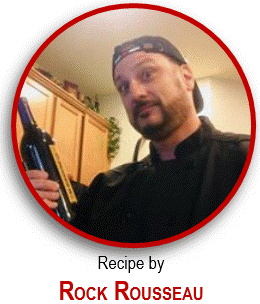 For Classic Beef Burritos:
1 lb. ground beef or chuck

One 10 oz. can red enchilada sauce

3/4 cup salsa verde

1-1/2 cups Cheddar cheese, shredded and divided

Four 10" tortillas of choice (i.e., flour, spinach, corn, etc.)
Small mixing bowl, mixing spoon, measuring spoons, large skillet, colander, measuring cups, 11" x 7" baking pan Prep: 10 minutes prep Cook: 18-25 minutes Ready: 35 minutes Serves: 4
Before you handle any food, wash your hands thoroughly with soap and water. Clean your kitchen work area and pull back your hair or wear a cap. You want to avoid contaminating your meal with harmful bacteria that could cause food illness.
To make Classic Beef Burritos:
1. Preheat oven to 375°.
2. In a small bowl, mix the sauce (enchilada) and veggies (salsa verde).
3. In a large skillet, cook meat (beef) over medium heat; stir and cook until fully cooked about 8-10 minutes.
4. Remove meat from skillet, and drain residual fat using a colander. Transfer to bowl with sauce and veggies. Mix to combine.
5. Spoon 2 TBSN of the beef mixture across center of each tortilla; top each with 2 TBSN cheese. Leave at least 1/3 cup of sauce and at least 1/2 cup of cheese aside.
6. Fold bottom and sides of tortilla over the filling and roll it up.
7. Use cooking spray to coat the 11" x 7" baking pan.
8. Place them side by side in a greased baking pan.
9. Pour remaining sauce mixture over the top of the burritos and sprinkle with the remaining shredded cheese.
10. Bake uncovered until cheese is melted, about 10-15 minutes.
1 burrito: 624 calories, 33 g fat (15 g saturated fat), 115 mg cholesterol, 1470 mg sodium, 44 g carbohydrate (6 g sugars, 2 g fiber), 36 g protein.
Sparkling wine. Champagne. Riesling. Rose. Pinot Noir. Sauvignon Blanc.
Southwestern Chicken Fajita Burritos
Follow the basic recipe above, and replace ingredients with these alternatives:
Meat: 1 lb chicken tenderloin strips

Cheese: 1- 1/2 cups Monterey Jack cheese

Veggies: 3/4 cup sliced yellow onion and green/red peppers

Sauce: One 10 oz. can red enchilada sauce

Optional: Add chipotle peppers for extra spice. Remove from oven and add a TBSN of sour cream or guacamole on top, include 1/2 cup of yellow rice and black beans.
Blue Buffalo Burritos
Follow the basic recipe above, and replace ingredients with these alternatives:
Meat: 1 lb ground bison or buffalo

Cheese: 1-1/2 cup crumbled Blue cheese

Veggies: 3/4 cup diced onion, red/green peppers

Sauce: One 10 oz. can red enchilada sauce mixed
Ham & Egg Breakfast Burritos
Follow the basic recipe above, and replace ingredients with these alternatives:
Meat: 8 oz diced smoked ham, 8 eggs

Cheese: 1-1/2 cup yellow American cheese

Veggies: 3/4 cup cooked hash brown potatoes

Sauce: 10 oz Cheddar Cheese sauce

Optional: Remove from oven and add a TBSN of sour cream
Tex Mex Cowboy Burritos
Follow the basic recipe above, and replace ingredients with these alternatives:
Meat: 1 lb chopped or ground sirloin

Cheese: 1-1/2 cup Sharp Cheddar Cheese

Veggies: 3/4 cup diced onion, red/green peppers

Sauce: One 10 oz. can red enchilada sauce mixed with 2 TBSN Worcestershire sauce

Optional: Add sliced mushrooms, yellow rice and kidney beans or refried beans
Italian Lasagna Burritos
Follow the basic recipe above, and replace ingredients with these alternatives:
Meat: 1 lb. ground chuck or Italian sausage

Cheese: 1-1/2 cup mixture of Mozzarella, Parmesan cheese, and Ricotta cheese

Veggies: 3/4 cup chopped parsley, yellow onion, diced tomatoes

Sauce: 10 oz. red marinara pasta sauce

Other: 2 TBSN minced garlic
Smothered Cheesy Burritos
Follow the basic recipe above, and replace ingredients with these alternatives:
Meat: None

Cheese: 2 cups mixture of Cheddar, Colby, and Monterey Cheese.

Veggies: None

Sauce: Sauce: 10 oz. red marinara pasta sauce
Veggie Celebration Burritos
Follow the basic recipe above, and replace ingredients with these alternatives:
Meat: 1 lb. diced tofu or jackfruit

Cheese: 1-1/2 cup preferred Vegan-friendly shredded cheese

Veggies: 3/4 cup chopped onion, chopped avocado, diced tomatoes

Sauce: One 10 oz. can red enchilada sauce

Other: Top with guacamole or Vegan-friendly sour cream