Rock Rousseau
Honey Jalapeno Cheddar Cornbread
A tasty blend of sweet cornbread, Sharp Cheddar cheese, and spicy jalapeno peppers. This cornbread is a great companion to Texas Chili. Serve with a soft sweet honey butter.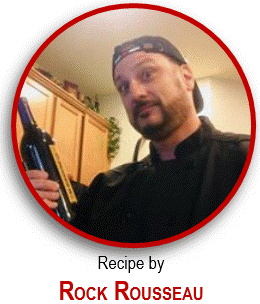 2 sticks preferred unsalted butter, softened

2/3 cup orange blossom honey

8 oz Sharp Cheddar cheese, finely shredded and divided

2 cups cornmeal

2 cups all-purpose flour

2 TBSN baking powder

1 teaspoon salt

3 large eggs

2 cups milk

2 fresh jalapeno peppers, thinly sliced
9x13-inch baking dish, 2 medium mixing bowls, mixing spoon, whisk, measuring spoons, measuring cups, sharp carving knife Prep: 15 minutes prep Cook: 25 minutes Ready: 50 minutes Serves: 12 squares
Before you handle any food, wash your hands thoroughly with soap and water. Clean your kitchen work area and pull back your hair or wear a cap. You want to avoid contaminating your meal with harmful bacteria that could cause food illness.
To make Honey Jalapeno Cheddar Cornbread:
1. Preheat oven to 400 degrees F (200 degrees C). Grease a 9x13-inch baking dish.
2. Beat butter and honey together in a large bowl until smooth.
3. Combine cornmeal, flour, baking powder, and salt in another bowl.
4. Stir eggs and milk in a third bowl.
5. Pour 1/3 milk mixture and 1/3 flour mixture alternately into butter mixture; whisk until just mixed.
6. Repeat with remaining ingredients and stir in jalapeno peppers and 2 cups of the shredded Cheddar cheese.
7. Spread mixture evenly into prepared baking pan and allow the mixture to sit at room temperature for 20 minutes. Sprinkle top with the remaining shredded Cheddar cheese.
8. Bake in preheated oven until a toothpick inserted into the center comes out clean, 25-30 minutes.
9. Cool in the pan for 10 minutes before slicing into large squares. Serve warm or at room temperature.
12 serving: 300 calories, x 13 fat (3 g saturated fat), 50 mg cholesterol, 530 mg sodium, 40 g carbohydrate (10 g sugars, 2 g fiber), x 6 protein.
Like most fruits and vegetables, jalapeño peppers are a good source of fiber. One pepper provides 2% of the RDI for a person consuming 2,000 calories per day.Jalapeños also contain lots of vitamin C and vitamin B6.Vitamin C is an antioxidant that fights free radical damage and keeps your skin healthy and firm, while vitamin B6 is an essential nutrient involved in over 140 bodily reactions,One of the most unique compounds in jalapeños is capsaicin, an alkaloid that gives peppers their characteristic spicy quality and is responsible for many of their health benefits.Lab studies have shown that capsaicin has strong anti-cancer properties and is capable of killing over 40 types of cancer cells without harming normal cells.Capsaicin fights cancer by:Stopping the growth and division of cancer cellsSlowing the formation of new blood vessels around cancer tumorsPreventing cancer from spreading to other areas of the bodyHowever, human studies have not replicated the anti-cancer benefits found in lab studies.In fact, several human studies have found that regularly eating chili peppers is linked to a higher risk of cancer. However, not all studies have shown this connection. It also appears that dosage matters. While high doses of capsaicin appear to slow the spread of cancer, low doses may encourage spreading.More studies are needed to determine how capsaicin and chili peppers influence the risk of cancer in humans.
Older vintages of German Riesling.