Rock Rousseau
Bourbon & Brown Sugar Barbecue Sauce
Updated: May 25, 2020
This tangy homemade barbecue sauce recipe infuses the smoky flavors of bourbon whiskey, bacon, brown sugar, and a blend of spices- Perfect for pulled pork, chicken, steak, and hamburgers.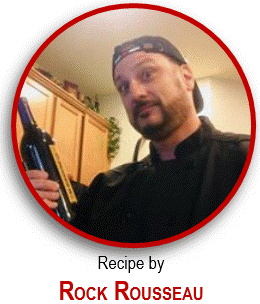 1 cup preferred bourbon whiskey (We recommend Jack Daniel's Bourbon Whiskey)

2 TBSN bacon crumbles

2 cups ketchup

½ cup Tomato Paste

¼ cup Worcestershire Sauce

½ cup yellow onion, chopped

3 TBSN garlic, minced

1 TBSN Extra Virgin Olive Oil

½ cup dark brown sugar

½ cup Apple Cider Vinegar

2 teaspoons freshly ground black pepper

1 teaspoon crushed red pepper

2 tablespoons liquid smoke

1 TBSN Soy sauce

1 TBSN Dijon mustard
Medium mixing bowl, mixing spoon, measuring spoons, aluminum foil, measuring cups, sharp carving knife Prep: 15 minutes prep Cook: 30 minutes Ready: 45 minutes Serves: 14-16 servings
Before you handle any food, wash your hands thoroughly with soap and water. Clean your kitchen work area and pull back your hair or wear a cap. You want to avoid contaminating your meal with harmful bacteria that could cause food illness.
To make Bourbon Brown Sugar Barbecue Sauce: 1. Heat one tablespoon of olive oil in a pan.
2. Sauté chopped onion and garlic on low-med heat until translucent, about 3 minutes.
3. Add in one cup of bourbon whiskey.
4. Mix in ketchup, tomato paste, Worcestershire sauce, brown sugar, apple cider vinegar, black pepper, salt, liquid smoke, Worcestershire sauce, bacon crumbles, red pepper flakes and soy sauce.
5. Bring to a boil, then simmer for 20-30 minutes until thick. Remove from heat. 6. Cover and chill. For best results, refrigerate for a day or two, allowing the flavors to blend.
Calories: 107

Total Fat: 1.8g

Saturated Fat: 0.0g

Cholesterol: 0mg

Sodium: 629mg

Potassium: 212mg

Total Carbohydrates: 16.6g

Dietary Fiber: 0.4g

Protein: 0.8g

Sugars: 15g