Rock Rousseau
Updated: Aug 16, 2022
Thick-cut bacon, fire-roasted tomatoes, roasted red papers, jalapeno pepper, and mix of flavorful seasonings give this Texan chili recipe a deep, smoky flavor. While it's great right after you make it, it's even better the next day. Serve with warm jalapeno cornbread for an epic meal that any cowboy would die for.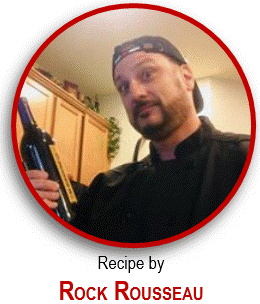 2 slices thick-cut bacon, finely chopped

1 large yellow onion, finely chopped

1 TBSN garlic, minced

1-1/2 pounds ground beef

2 TBSN chili powder

2 teaspoons ground cumin

2 teaspoons smoked paprika

2 teaspoon cayenne pepper

1 teaspoon salt

1 can (14.5 oz.) crushed fire-roasted tomatoes

1/2 cup roasted red pepper, chopped

1 jalapeno pepper, chopped

1 TBSN molasses

1 can (8 oz.) tomato sauce

1 can Shiner beer or Lone Star beer (or another medium-bodied beer, such as Pabst Blue Ribbon or Miller High Life)

1 teaspoon Worcestershire sauce

1 can (14.5 oz.) dark red kidney, drained

Sour cream, sliced green onions, and shredded Sharp Cheddar cheese for topping
Large heavy bottom pot, pot cover, wooden mixing spoon, measuring spoons, measuring cups, sharp carving knife
Prep: 15 minutes prep Cook: 90 minutes Ready: 120 minutes Serves: 6
Before you handle any food, wash your hands thoroughly with soap and water. Clean your kitchen work area and pull back your hair or wear a cap. You want to avoid contaminating your meal with harmful bacteria that could cause food illness.
To make Texas Beef & Bacon Chili: 1. In a large, heavy-bottomed pot over medium-high heat, cook bacon, stirring until it just begins to brown.
2. Add onion to bacon and residual bacon fat, lower heat to medium, cover, and cook, stirring occasionally, until translucent, 4 to 7 minutes.
3. Stir in minced garlic and saute 1 minute.
4. Increase heat to medium-high and add ground beef; break it up with a wooden spoon and stir gently until it begins to brown.
5. Stir in all of the spices and salt.
6. Add tomatoes, red pepper, jalapenos, tomato sauce, beer, molasses, and Worcestershire sauce. Bring it to a boil.
7. Reduce heat to low, cover partially and cook 45 minutes.
8. Add kidney beans and cook on low for another 45 minutes, partially covered. Stir every 15 minutes.
9. Top with a tablespoon of sour cream, sliced green onions, and shredded Sharp Cheddar cheese. Serve immediately.
1 serving: 465 calories, 32 g fat (12 g saturated fat), 95 mg cholesterol, 1080 mg sodium, 20 g carbohydrate (10 g sugars, 4 g fiber), 30 g protein.
Ground beef is loaded with nutrients and antioxidants, including zinc, vitamin B6, and alpha lipoic acid. These are responsible for creating antibodies and keeping blood sugar levels in check. A 3oz serving of 95% lean ground beef has just 164 calories and 4.5g of fat, but offers up 24 g of protein.
Fine-bodied Texan beer like Lone Star Beer or Shiner's Beer
Beef & Bacon Coffee Chili
Follow recipe, and replace can of beer with 12 oz of strong brewed dark roast coffee.