Rock Rousseau
Whole Grain Honey Wheat Bread
Updated: May 25, 2020
Multigrain bread is packed with healthy whole grains, oats, seeds and a touch of honey for sweetness. A simple recipe for the beginning or advanced bread baker! This artisan breast has a crusty texture with a soft center. You should be able to find all the ingredients at a Whole Foods market or similar. If you can't find an ingredient local, you can always purchase it online.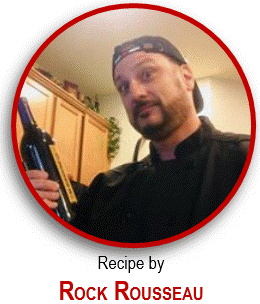 For the Soaker:
1/4 cup 10 Grain Cereal

2 TBSN Thick Rolled Oats

2 TBSN Quinoa

2 TBSN Flax Seed

2 TBSN raw Sunflower Seeds

1/3 cup spring water, room temp
For the Dough:
1/2 cup Almond milk

1-1/2 cup White Unbleached Bread Flour

1 1/2 cup Whole Wheat Bread Flour

3 TBSN Orange Blossom honey

1 teaspoon Sea Salt

2 TBSN preferred butter, softened

1 egg, beaten

1 TBSN Active Dry Yeast

2 TBSN brown sugar

3/4 cup Spring water, room temp
For the Topping:
1 TBSN Rolled Oats

Bread flour for dusting
Small mixing bowl, 9x5" loaf pan, cooking spray, mixing spoon, measuring spoons, large mixing bowl, measuring cups, instant-read thermometer, Olive Oil, sharp carving knife Prep: 4 hours 15 minutes Cook: 25 minutes Ready: 4 hours, 40 minutes Serves: 1 loaf
Freezer Friendly: 1 month Keeps: 3-4 Days
Before you handle any food, wash your hands thoroughly with soap and water. Clean your kitchen work area and pull back your hair or wear a cap. You want to avoid contaminating your meal with harmful bacteria that could cause food illness.
To make Whole Grain Honey Wheat Bread: 1. The day before making the bread, prepare the soaker by placing the grain cereal, rolled oats, quinoa, flax, sunflower seeds and water into a small bowl. Leave out at room temperature overnight.
2. Coat the inside of a large bowl and a 9x5" loaf pan with cooking spray. Set aside.
3. Mix the almond milk, butter, honey, and egg together. Whisk vigorously. Set aside.
4. In a large bowl, add both flours, sugar, salt, and yeast. Stir to mix thoroughly.
5. Add the soaker, brown sugar, yeast, salt, Almond milk mixture, and spring water.
6. Stir to mix and stiffen dough until it forms a chunky ball should. If the dough feels a bit too dry, add 1 TBSN of water, if too wet, a few pinches of flour.
7. Allow the dough to sit until it reads between 77F-81F on a thermometer. The right temperature is essential.
8. Finish the dough by kneading it on a lightly floured work surface for about 10 minutes. Sprinkle with a bit of flour if needed.
9. Tuck the dough into a ball, making sure the surface is taught. Transfer the dough to a medium sized bowl coated in Olive Oil, rolling it around to coat it with oil.
10. Cover the bowl with plastic wrap. Set a timer for 90 minutes to allow the dough to ferment. It should double in size in 90 minutes.
TIP: If the dough is rising too fast, pop it in the fridge to cool it down for 10-15 minutes or set it in a cooler area of the house. It may take longer to rise, but we don't want it to rise too fast, as this is where flavor development occurs. The goal is for the dough to double in size.
11. To shape the dough, remove the dough from the bowl and place it on a lightly floured work surface. Form a rectangle shape.
12. Spray to coat the loaf pan and gently place the loaf inside. It should fit easily into the pan and have enough room to double in size.
13. Lightly sprinkle with water. Sprinkle 1 TBSN of Rolled oats over the top of the dough.
14. Cover with plastic wrap. Set the timer for 90 minutes and proof until the dough nearly doubles in size.
15. Preheat oven to 350 F .
16. Bake in the center of the oven for 20 minutes.
17. Rotate the pan and continue baking for another 40 minutes or until the bread reaches an internal temperature of 185F-190F (85C-87C), and is golden brown.
18. Remove the bread from the loaf pan immediately and allow to cool on a cooling rack for a least 2 hours.
TIP: Do not slice bread until it has fully cooled.
19. Store bread in a large Ziplock bag for up to 5 days. It freezes beautifully too, if you want to save 1/2 for next week.
Nutrition Per Serving (1 of 12 slices) Calories: 163 Fat: 1 g Sodium: 292 mg Carbohydrates: 31 g Fiber: 4 g Sugar: 2 g Protein
Bread has always been a dietary staple in Australian households. It's a good source of carbohydrate, it's low in fat, and wholegrain varieties are a good source of protein, fiber, vitamins and minerals, as well as healthy fats. Whole grains are high in dietary fiber, which helps keep us feeling full.
More variations coming soon!