Rock Rousseau
Pulled Pork Shepherd's Pie
Updated: May 25, 2020
Ranch-seasoned mashed potatoes, perfect pulled pork bathed in your favorite barbecue sauce, and savory veggies take this classic Irish dish to whole new level.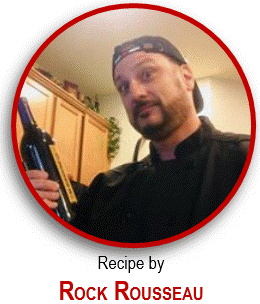 To make RANCH MASHED POTATOES
2 lb. red potatoes, chopped

1/2 packet Ranch seasoning mix

2/3 cup preferred sour cream
To make the pie filling:
Medium mixing bowl, mixing spoon, measuring spoons, large casserole pan, cooking spray, measuring cups, potato masher, sharp carving knife Prep: 20 minutes prep Cook: 20 minutes Ready: 40 minutes Serves: 8-10
Before you handle any food, wash your hands thoroughly with soap and water. Clean your kitchen work area and pull back your hair or wear a cap. You want to avoid contaminating your meal with harmful bacteria that could cause food illness.
To make Pulled Pork Shepherd's Pie: 1. Preheat oven to 400°.
2. Make the Ranch Mashed Potatoes: Peel potatoes (if desired- I like mashed potatoes with skins but you can peel them if you prefer) and cut into 1" chunks.
3. Place potato chunks in a large pot and cover with salted water.
4. Bring water to boil and cook until potatoes are tender when pierced with a fork, about 10-15 minutes.
5. Drain potatoes and place in a large bowl.
6. Add ranch seasoning and sour cream and mash potatoes until the mixture is thoroughly combined and most of the lumps are gone (some like their mashed potatoes chunky, some prefer super smooth- you decide). Set mashed potatoes aside.
7. Make the pie filling: Toss pulled pork with preferred barbecue sauce (as much or as little as you'd like to use- I suggest at least a half cup).
8. Use cooking spray to coat a large casserole pan.
9. Add pork to a large casserole pan, and flatten it to create one even layer.
10. Top with drained corn and sweet peas, then add a layer of mashed potatoes on top.
11. Cover graciously with shredded cheese.
12. Bake in the oven for 14-16 minutes, or until cheese has melted.
13. Serve hot. Garnish with chopped green onion (optional)
More variations coming soon!