Rock Rousseau
Steakhouse Salad with Red Wine Vinaigrette
Updated: May 25, 2020
This salad is a powerhouse of nutrients and protein. The beefsteak tomatoes and mushrooms pair nicely with the grilled top sirloin, but once you add the home-made Red Wine Vinaigrette with blue cheese, it turns this salad into an incredible meal all its own. For Keto diets, this is a low cal, high protein dream.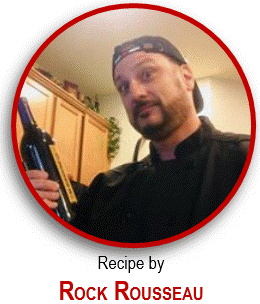 For Salad:
2 pounds thin sliced top sirloin steak

3/4 cup crumbled blue cheese

1/2 cup chopped Portobello mushrooms

8 cups romaine lettuce - rinsed, dried, and torn into pieces

2 beefsteak tomatoes, sliced and quartered

1 small green and red bell pepper, chopped

1/2 cup carrots, matchstick

1/2 cup red onion, sliced
For Red Wine Vinaigrette:
1/2 cup red wine vinegar

2/3 cup Extra Virgin Olive Oil

1 teaspoon ground black pepper

2 TBSN lemon juice

2 TBSN honey

1 teaspoon garlic, minced

1 teaspoon salt

1 TBSN dijon mustard
Medium mixing bowl, mixing spoon, measuring spoons, aluminum foil, measuring cups, large roasting pan, baster, instant-read thermometer, sharp carving knife Prep: 30 minutes prep Cook: 15 minutes Ready: 45 minutes Serves: 4-6
Before you handle any food, wash your hands thoroughly with soap and water. Clean your kitchen work area and pull back your hair or wear a cap. You want to avoid contaminating your meal with harmful bacteria that could cause food illness.
To make Steakhouse Salad with Red Wine Vinaigrette:
Preheat grill on high heat.

Lightly oil grate. Place steak on grill and cook for 3 to 5 minutes per side or until desired doneness is reached.

Remove from heat and cover in aluminum foil. Allow to sit for 10 minutes.

In a blender, mix together the Red Wine Vinaigrette ingredients listed above.

Stir in the blue cheese crumbles. Cover and place dressing in refrigerator.

In a bowl, toss the lettuce, tomatoes, carrots, peppers, onions and mushrooms. Mix in the preferred amount of Red Wine Vinaigrette and toss thoroughly to lightly coat all of the salad ingredients.

Uncover and slice steak into bite size pieces.

Use salad tongs to pile salad onto chilled plates.

Top salad with steak pieces and drizzle slightly with vinaigrette before serving.
1 serving: 500 calories, 40 g fat (12 g saturated fat), 100 mg cholesterol, 840 mg sodium, 10 g carbohydrate (4 g sugars, 4 g fiber), 35 g protein.
Eating leafy green salads will higher blood levels with a host of powerful antioxidants, including vitamin C and E, folic acid, lycopene, and alpha- and beta-carotene,especially when it features fresh raw vegetables. Salads high in fiber which can help lower cholesterol levels and prevent constipation. For years, researchers have noted a link between eating lots of fruits and vegetables and lower risks of many diseases, particularly cancer. A recent study from the National Cancer Institute suggests that people whose diets are rich in fruits and vegetables may have a lower risk of developing cancers of the head and neck -- even those who smoke and drink heavily. Foods found to be particularly protective include beans and peas, string beans, peppers, tomatoes, carrots, apples, nectarines, peaches, plums, pears, and strawberries. Studies have shown that eating a low-calorie first course, like a green salad of 150 calories or less, enhances satiety (feelings of fullness) and reduces the total number of calories eaten during the meal. If you dress your salad with a little olive oil, there may even be some additional years in it for you. Italian research on people aged 60 and older has suggested that a diet that includes plenty of olive oil and raw vegetables is linked to reduced mortality.
For Vegans and vegetarians, replace steak with jackfruit or tofu. Replace blue cheese with preferred Vegan-friendly shredded cheese.
Cranberry Steak Salad
Replace the romaine lettuce with baby spinach. Replace carrots with tart-sweet dried cranberries. You can sub crumbled goat cheese or feta for the blue cheese. Replace green pepper with either walnuts or pecans.
California Steak Salad
Replace romaine lettuce with arugula . Grill the red onion along with the steak. Replace mushrooms with chopped avocado. Replace carrots with almond slivers.
Bacon Ranch Steak Salad
Replace red wine vinaigrette with Ranch dressing. Replace carrots with crumbled pieces of bacon. Replace blue cheese with shredded sharp cheddar cheese.
Ginger Steak and Kale Salad
Replace romaine lettuce with Kale. Dust steak lightly with dry Ginger before grilling.