Rock Rousseau
Updated: May 25, 2020
This decorative Easter bread has whole eggs baked into it! In many European countries, there are various traditions surrounding the use of bread during the Easter holidays.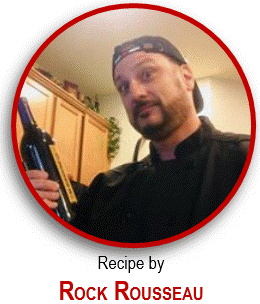 2 ½ cups bread flour, divided

¼ cup white sugar

1 teaspoon salt

1 (.25 ounce) package active dry yeast

Extra Virgin Olive Oil

⅔ cup milk

2 TBSN preferred butter

2 large eggs

¼ cup multicolored sprinkles

5 whole large eggs, dyed (For Marbled Easter Egg recipe, click here)

2 TBSN preferred butter, melted
2 large mixing bowls, mixing spoon, measuring spoons, damp cloth, measuring cups, baking sheet Prep: 45 mins Cook: 30 mins Total: 3 hrs Additional: 1 hr 45 mins Servings: 10 Yield: One 1-pound loaf
To make Braided Easter Egg Bread: 1. In a large bowl, combine 1 cup flour, sugar, salt and yeast; stir well.
2. Combine milk and butter in a small saucepan; heat until milk is warm and butter is softened but not melted.
3. Gradually add the milk and butter to the flour mixture; stirring constantly. 4. Add two eggs and 1/2 cup flour; beat well. 5. Add the remaining flour, 1/2 cup at a time, stirring well after each addition. 6. When the dough has pulled together, turn it out onto a lightly floured surface and knead until smooth and elastic, about 8 minutes. 7. Lightly oil a large bowl, place the dough in the bowl and turn to coat with oil.
8. Cover with a damp cloth and let rise in a warm place until doubled in volume, about 1 hour. 9. Deflate the dough and turn it out onto a lightly floured surface. 10. Divide the dough into two equal size rounds; cover and let rest for 10 minutes. 11. Roll each round into a long roll about 36 inches long and 1-1/2 inches thick. 12. Using the two long pieces of dough, form a loosely braided ring, leaving spaces for the five colored eggs. 13. Seal the ends of the ring together and use your fingers to slide the eggs between the braids of dough. 14. Place loaf on a coated baking sheet and cover loosely with a damp towel. 15. Place loaf in a warm place and let rise until doubled in bulk, about 45 minutes. 16. Preheat oven to 350 degrees F (175 degrees C). 17. Brush risen loaf with melted butter. Add sprinkles around the top of the loaf. 18. Bake in the preheated oven until golden brown, about 30 minutes
calories: 234

protein: 8.5g

carbohydrates: 30.1g

dietary fiber: 1g

sugar: 6g

fat: 8.7g

saturated fat: 4.3g

cholesterol: 144mg
Eggs are a great inexpensive source of high quality protein. More than half the protein of an egg is found in the egg white along with vitamin B2 and lower amounts of fat and cholesterol than the yolk. The white part is also rich in selenium, vitamin D, B6, B12 and minerals such as zinc, iron and copper.
Sparkling wine. Champagne and eggs are a classic pairing, such as a crisp unoaked Sauvignon Blanc. Zingy whites work well with eggs, and Sauvignon Blanc in particular is terrific with baked eggs that are made with herbs.
More varieties coming soon!