Rock Rousseau
Tequila Shrimp & Corn Chowder
Updated: May 25, 2020
This is absolutely one of my favorite soups! I tried to replicate the Shrimp Diablo Chowder recipe from a local Mexican restaurant chain, and in the process, I made it even better by adding diced tomatoes with green chilies and creamed corn instead of frozen kernels. "Diablo" means "Devil" in Spanish, but this mixture of shrimp, tequila, and creamed corn is simply heavenly! Adding the undrained can of Ro-tel tomatoes and chiles to heavy whipping cream gives this chowder a heavenly pinkish-beige color. If you love spicy shrimp and corn (and of course, tequila), this chowder will become one of your favorites, too.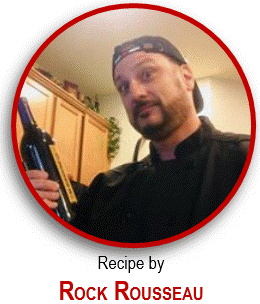 1 lb. large shrimp, peeled, de-veined, and de-tailed- chopped in bite-sized chunks (Vegan- replace shrimp with peeled and chopped baby carrots and add to mixture with onions)

1 lb. chorizo sausage, crumbled (Vegan- use preferred Vegan-friendly sausage alternative)

1 jalapeno, seeded and minced

4 cups seafood or clam broth (Vegan- use Vegetable stock)

2 cups heavy whipping cream (Vegan/Gluten-free- use Coconut or Almond cream)

1 cup white tequila, divided (I recommend Don Julio Tequila Blanco)

15-20 Spanish saffron threads, crumbled

1/2 cup cream style yellow corn

One 10 oz can RO-tel Diced Tomatoes & Green Chilies Mild, do not drain

2 limes, juiced

1/2 cup Spanish yellow onion, minced

4 TBSP preferred butter

2 TBSN fresh cilantro, chopped

2 TBSN garlic, minced

1 teaspoon fresh ground pepper

1 teaspoon thyme

3 TBSN preferred all-purpose flour (For gluten-free, use sweet rice flour)

1/2 teaspoon chipotle pepper

1 teaspoon ground cumin

Salt and pepper to taste
Medium mixing bowl, large soup pot, mixing spoon, whisk, measuring spoons, measuring cups, sharp knife Prep: 5 minutes prep Cook: 35 minutes Ready: 40 minutes Serves: 6-8
Before you handle any food, wash your hands thoroughly with soap and water. Clean your kitchen work area and pull back your hair or wear a cap. You want to avoid contaminating your meal with harmful bacteria that could cause food illness.
1. Combine 1/4 cup tequila, lime juice from two limes, and garlic in a medium bowl.
2. Chop the peeled shrimp into small bite-sized chunks. Add shrimp in the tequila lime mixture. Set aside for a several minutes to marinate.
3. Melt the butter in a large soup pot over low-med heat.
4. Add the diced onions, chorizo sausage, diced jalapeno, and thyme. Saute until onions and jalapenos are soft and sausage is browned, about 3-5 minutes.
5. Pour in remaining 3/4 cup of tequila to de-glaze the pot; scraping up any bits on bottom of pan.
6. Add flour and whisk often until completely mixed and lumps are gone, for about four minutes.
7. Pour in the seafood broth, heavy whipping cream, creamed corn, cumin, cilantro, chipotle, full un-drained can of RO-tel tomatoes and chiles, and crumbled saffron. Bring mixture to a boil then simmer on low for 10 minutes.
8. Add the shrimp and tequila garlic mixture. Simmer on low about 10-12 minutes.
9. Season with salt and pepper to taste. Serve immediately.
Calories: 365

Saturated Fat: 5 g

Cholesterol: 200 mg

Sodium: 838 mg

Potassium: 727 mg

Total Carbohydrates: 40 g

Dietary Fiber: 5 g

Protein: 30 g

Sugars: 8 g
Shrimp contains zero carbs, and is also very low in calories (approximately 1 calorie/1 gram of shrimp). As an organic life form, shrimp is packed with protein and is composed primarily of water, but there is also a small amount of fat as well. However, the most beneficial aspect of shrimp is the treasure trove of vitamins and nutrients that it contains. You can fill out your daily mineral intake of iron, calcium, sodium, phosphorus, zinc, magnesium, and potassium, along with vitamin A, vitamin E, and B6, and even vitamin B12! Shrimp also contains iodine, thiamin, riboflavin, and niacin.
Chenin Blanc from the Loire Valley in France is a good option
because it has a sweet, honeyed stone-fruit flavor.
Tequila Shrimp, Corn and Bacon Chowder
Follow recipe and add 1/4 cup crumbled cooked bacon when adding shrimp.