Rock Rousseau
Updated: May 25, 2020
This baked crispy shrimp is rolled in a coconut beer batter before cooking on high heat; ore flavor than fried without all the added calories. This coconut shrimp is super super easy to make with all the flavors of Key West with our secret batter ingredient. Using a mixture of panko breadcrumbs and coconut to coat the shrimp adds to the crunch on the outside and seals in the tenderness and seasoning on the inside.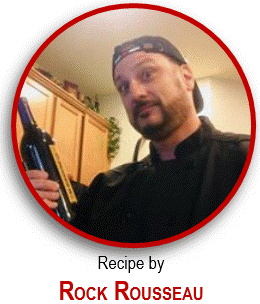 2 large eggs

1/2 cup preferred all-purpose flour

½ cup Panko breadcrumbs

1/2 cup preferred beer (I recommend Key West Sunset Ale)

2 TBSN Extra Virgin Olive Oil

2 teaspoons baking powder

1 teaspoon garlic powder

1 teaspoon sweet paprika

1 teaspoon dried parsley

1 teaspoon Old Bay seasoning

1 cup flaked toasted coconut

24 jumbo shrimp, de-shelled and de-veined

preferred dipping sauce (I recommend Spicy Tai Chili sauce or Key Lime Dijon sauce)
3 medium mixing bowls, mixing spoon, measuring spoons, aluminum foil, measuring cups, large baking sheet, Prep: 10 minutes prep Cook: 20 minutes Ready: 30 minutes Serves: 24 shrimp
Before you handle any food, wash your hands thoroughly with soap and water. Clean your kitchen work area and pull back your hair or wear a cap. You want to avoid contaminating your meal with harmful bacteria that could cause food illness.
To make Key West Coconut Shrimp: 1. Preheat oven to 450 degrees F. Cover baking sheet with aluminum foil an coat with the olive oil.
2. Beat eggs and beer in a small bowl and set aside.
3. Combine breadcrumbs and coconut in a second bowl and set aside.
4. Combine flour, baking powder, paprika, Old Bay seasoning, and garlic powder in a third bowl.
5. Hold shrimp by tail, and dredge in flour, shaking off excess flour.
6. Dip floured shrimp in the egg beer mixture, letting the excess drip off the shrimp.
7. Lastly, coat the shrimp in the coconut breadcrumb mixture, pressing to adhere.
8. Place shrimp on the hot oiled baking sheet in a single layer.
9. Bake until the shrimp are golden on the outside, about 10-15 minutes. Turning over once after 5 minutes to brown both sides of shrimp.
10. Using tongs, remove shrimp from baking sheet and sit on paper towels to drain any excess oil.
11. Serve warm with your favorite dipping sauce.
Calories 63 - Total Fat 3.3g grams - Saturated Fat 2g grams - Trans Fat 0g grams - Cholesterol 19mg milligrams - Sodium 87mg milligrams - Potassium 39mg milligrams - Total Carbohydrates 6g grams - Dietary Fiber 0.4g grams - Sugars 0g grams -Protein 2.2g
Shrimp contains zero carbs, and is also very low in calories (approximately 1 calorie/1 gram of shrimp). As an organic life form, shrimp is packed with protein and is composed primarily of water, but there is also a small amount of fat as well. However, the most beneficial aspect of shrimp is the treasure trove of vitamins and nutrients that it contains. You can fill out your daily mineral intake of iron, calcium, sodium, phosphorus, zinc, magnesium, and potassium, along with vitamin A, vitamin E, and B6, and even vitamin B12! Shrimp also contains iodine, thiamin, riboflavin, and niacin.
Chenin Blanc from the Loire Valley in France is a good option because it has a sweet, honeyed. stone-fruit flavor.
Spicy Coconut Shrimp
Follow recipe and replace Old Bay seasoning with Cayenne pepper. Replace beer with a TBSN of preferred hot sauce.