Rock Rousseau
Champagne-Soaked Chocolate Covered Strawberries
Updated: May 25, 2020
These strawberries soak in a Champagne bath for 24 hours, then are dipped into a melted chocolate. Once you bite into one of these, the snap of chocolate shell gives way to a juicy strawberry enhanced with bright bubbly flavor of Champagne. The soak in sparkling wines enhance their natural sweetness. You could craft these with your sweetheart for a fun in-home date night or you could make them in advance and surprise your valentine with a special treat. These are best served within 24 hours of dipping and can be stored covered in the refrigerator for one day.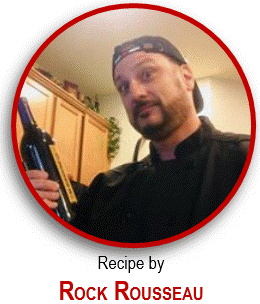 1 pound (4 cups) fresh strawberries

24 oz (3 cups) semi-sweet Champagne or sparkling wine

2 cups semi-sweet chocolate chips or chocolate melts for dipping

2 teaspoons vegetable oil

4 oz (1/2 cup) melted white chocolate (optional for drizzling)

Variety of sprinkles (optional to sprinkle on after dipping)
Colander, large Ziplock bag, baking sheet, parchment paper, small pot, mixing spoon
Prep: 20 minutes prep, 10 minutes to cool and drizzle Cook: 15 minutes Ready: 30 minutes Serves: 4-6
Before you handle any food, wash your hands thoroughly with soap and water. Clean your kitchen work area and pull back your hair or wear a cap. You want to avoid contaminating your meal with harmful bacteria that could cause food illness. To make Champagne-Soaked Chocolate Covered Strawberries:
1. Wash strawberries in a colander. Pat them dry.
2. In large bowl or Ziplock bag, pour champagne over strawberries. If you use a bowl, cover it with plastic wrap and make sure the berries are all submerged. You can place a dish on top of the plastic to gently hold them down.
3. Make sure strawberries are fully submerged. Let soak for 24 hours.
4. Drain strawberries from Champagne in a colander. Gently pat dry.
5. Line a baking sheet with parchment paper.
6. In small pot, melt chocolate chips with vegetable oil over very low heat, stirring frequently until smooth.
7. Dip berries in chocolate. Place dipped berries on the lined baking sheet to dry.
8. If desired, drizzle with melted white chocolate or add sprinkles. If you don't have a squeeze botttle, you could snip the corner off of a plastic sandwich bag to turn it into a pastry bag to drizzle the white chocolate.
6 strawberries: 180 calories, 7 g fat (4 g saturated fat), 6 mg cholesterol, 50 mg sodium, 30 g carbohydrate (20 g sugars, 2 g fiber), 0 g protein.
Dark chocolate is loaded with nutrients that can positively affect your health.Made from the seed of the cocoa tree, it is one of the best sources of antioxidants on the planet. Studies show that dark chocolate can improve your health and lower the risk of heart disease. If you buy quality dark chocolate with a high cocoa content, then it is actually quite nutritious.It contains a decent amount of soluble fiber and is loaded with minerals.A 100-gram bar of dark chocolate with 70–85% cocoa contains (1):11 grams of fiber, 67% of the RDI for iron, 58% of the RDI for magnesium, 89% of the RDI for copper, 98% of the RDI for manganese. It also has plenty of potassium, phosphorus, zinc and selenium. Of course, 100 grams (3.5 ounces) is a fairly large amount and not something you should be consuming daily. All these nutrients also come with 600 calories and moderate amounts of sugar. For this reason, dark chocolate is best consumed in moderation.The fatty acid profile of cocoa and dark chocolate is also excellent. The fats are mostly saturated and monounsaturated, with small amounts of polyunsaturated fat.It also contains stimulants like caffeine and theobromine, but is unlikely to keep you awake at night as the amount of caffeine is very small compared to coffee.
Sparkling wine or semi-sweet Champagne.