Rock Rousseau
HOW TO Make Perfect Scrambled Eggs
Updated: Aug 29, 2019
This perfected method gives you all the tips for making scrambled eggs with the perfect texture; not too runny, not too dry.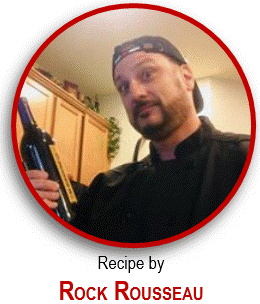 12 large eggs, scrambled

1/2 cup Half & Half

3 TBSN preferred butter, salted

Salt and Pepper, to taste
Large mixing bowl, large skillet, mixing spoon, measuring spoons, silicone spatula, measuring cups
Prep: 5 minutes prep Cook: 20 minutes Ready: 25 minutes Serves: 8 Before you handle any food, wash your hands thoroughly with soap and water. Clean your kitchen work area and pull back your hair or wear a cap. You want to avoid contaminating your meal with harmful bacteria that could cause food illness. To make Perfect Scrambled Eggs:
TIP: Place oven-safe plates in oven to warm while you're cooking. Nothing is worse than placing hot scrambled eggs on a cold plate.
1. Break eggs into a large mixing bowl. Pour the Half & Half into the eggs, and whisk the mixture until light and foamy.
TIP: When possible, use a blender on high to make the eggs as light and foamy as possible
2. Add butter to a nonstick skillet and place it on medium heat. It's best to cook eggs slowly on low heat. Never on high heat, quickly.
3. When the butter melts pour the eggs straight into the pan to mix with the melted butter.
TIP: If you love cheese with your eggs, mix in a half cup of shredded cheese to give your eggs a little zest!
4. Allow the eggs to cook for a couple minutes before using a silicone spatula to stir and fold the eggs slowly.
5. As soon as soft lumps of eggs begin to form, lower the heat to low. Continue to fold the curds over on themselves while gently shaking the pan. Eggs should take between 3-5 minutes to cook.
TIP: Add any preferring filling ingredients to the pan at this time, and mix in with the eggs.
6. Remove from heat and continue to stir; allowing the eggs to finish cooking without scorching or over-cooking.
7. Use a spatula to gently transfer the scrambled eggs to the warmed plate. Serve immediately. Season to taste with salt and pepper.
Eggs are a great inexpensive source of high quality protein. More than half the protein of an egg is found in the egg white along with vitamin B2 and lower amounts of fat and cholesterol than the yolk. The white part is also rich in selenium, vitamin D, B6, B12 and minerals such as zinc, iron and copper.
Recommended ingredients to include in scrambled eggs:
Crumbled Bacon

Diced Ham

Diced Salmon

Shredded or Crumbled Cheese (Cheddar, American, Parmesan, Feta)

Baby Spinach

Diced Petite Tomatoes

Crumbled Sausage

Diced Mushrooms

Diced Avocado