Rock Rousseau
Spanish Paella de Marisco
Updated: May 25, 2020
Paella de Marisco is a summer favorite in Spain because Paella is the perfect base for fresh seafood. With the myriad of fresh ingredients, it offers delicious flavor and a stunning presentation. If you are able to cook your paella over a wood fire or in a smoker grill, this would enhance your paella with an authentic smokey flavor with absolute epic texture and flavor.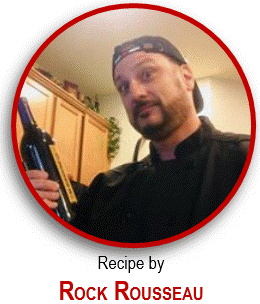 1/4 cup extra-virgin olive oil

1 tablespoon paprika

2 teaspoons dried oregano

2 pounds skinless, boneless chicken breasts, cut into 2 inch pieces

3 cloves garlic, crushed

1 teaspoon crushed red pepper flakes

1 pinch saffron threads

3 bay leaves

1/4 cup fresh parsley leaves, chopped, reserve some for garnish

1 quart chicken stock

2 lemons, zested

1 large Yellow onion, chopped

1 can roasted red peppers, coarsely chopped

1 pound chorizo sausage, thickly sliced

1 pound jumbo shrimp, peeled and deveined

1 (15-ounce) can whole tomatoes, drained and hand-crushed

2 cups short grain Spanish rice

2 lobster tails, 1 lb mussels (optional)

1/2 cup sweet peas, frozen and thawed

Lemon wedges, for serving
Medium mixing bowl, mixing spoon, measuring spoons, measuring cups, large sauce pan, sharp carving knife Prep: 30 minutes prep Cook: 30 minutes Ready: 60 minutes Serves: 6-8
Before you handle any food, wash your hands thoroughly with soap and water. Clean your kitchen work area and pull back your hair or wear a cap. You want to avoid contaminating your meal with harmful bacteria that could cause food illness.
To make Spanish Paella de Marisco: 1. Combine the paprika, red pepper flakes, and oregano in a small bowl.
2. Rub the spice mix all over the chicken and marinate chicken for 1 hour in the refrigerator.
3. Heat Olive Oil in a large sauce pan over medium-high heat (Stovetop is fine, but over a smoking grill or wood burning campfire would be ideal)
4. Saute the chorizo sausage until browned, remove and cut into thick slices.
5. Add chicken skin-side down and brown on all sides, turning with tongs. Remove from pan and reserve.
6. In the same pan, make a sofrito by sauteing the onions, garlic, and parsley. Cook for 2 or 3 minutes on a medium heat.
7. Add tomatoes and roasted red peppers and cook until the mixture caramelizes a bit and the flavors meld.
8. Fold in the rice and stir-fry to coat the grains.
9. Pour in chicken stock and the bay leaves and simmer for 10 minutes, gently moving the pan around so the rice cooks evenly and absorbs the stock. Add chicken, chorizo, and saffron.
10. Add the shrimp, tucking them into the rice and cook for 8 minutes.
11. Give the paella a good shake then let it simmer without stirring, until the rice is al dente, for about 15 minutes.
12. During the last 5 minutes of cooking, when the rice is filling the pan, add the lobster tails and top paella with green peas.
13. When the paella is cooked and the rice looks fluffy and moist, turn the heat up for 40 seconds until you can smell the rice toast at the bottom; then it's perfect.
14. Remove from heat and rest for 5 minutes. Garnish with parsley and lemon wedges.
Calories: 736

Total Fat: 35 g

Saturated Fat: 10 g

Cholesterol: 200 mg

Sodium: 1200 mg

Potassium: 780 mg

Total Carbohydrates: 46 g

Dietary Fiber: 3 g

Protein: 56 g

Sugars: 2 g
Chicken breast, with 31 grams of protein per 100 grams, is one of the best foods for protein. Protein plays an important role in our diet. It is made of amino acids, which are the building blocks of our muscles. Chicken is also very rich in vitamins and minerals. For example, B vitamins in it are useful for preventing cataracts and skin disorders, boosting immunity, eliminating weakness, regulating digestion, and improving the nervous system. They are also helpful in preventing migraine, heart disorders, gray hair, high cholesterol, and diabetes. Chicken consumption has been found to be useful in controlling blood pressure as well. The amount of saturated fat and cholesterol found in red meat such as beef, pork, and lamb are much higher than the levels found in chicken, fish, and vegetables. Therefore, the American Heart Association has advised consuming chicken or fish instead of red meat for a lowered risk of cholesterol and subsequent heart disease development.
Shrimp contains zero carbs, and is also very low in calories (approximately 1 calorie/1 gram of shrimp). Shrimp is packed with protein and is composed primarily of water, but there is also a small amount of fat as well. Shrimp can provide you with your daily mineral intake of iron, calcium, sodium, phosphorus, zinc, magnesium, and potassium, along with vitamin A, vitamin E, and B6, and B12. It also contains iodine, thiamin, riboflavin, and niacin.​
Riesling; it's aromatic sweetness and high acidity will cut through fat and embellish the umami notes in chicken. Also could pair well with Prosecco, if you want something a little more on the sweeter, fruiter side.
Veggie Celebration Paella
Follow recipe and replace chicken, sausage, and seafood with zucchini, carrots, Portobello mushrooms, and artichoke hearts
Gluten-Free Paella
Follow recipe and replace saffron and rice with gluten-free rice or polenta pasta.