Rock Rousseau
Updated: May 25, 2020
Lobster Newburg is a rich American seafood dish, often served for breakfast. The dish originated in 1876 when sea captain Ben Wenberg presented the dish in New York City, featuring lobster meat cooked with egg yolks, butter, sherry, and served in a pastry shell. We take this classic dish a step further, adding lemon, cayenne pepper and nutmeg.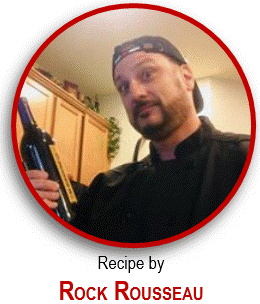 1 pound cooked lobster meat, tail and claw meat cut into bite-sized chunks

1 pound medium sea scallops

2 egg yolks, beaten

1/4 cup preferred all-purpose flour

1/2 cup heavy cream

1/4 cup butter or margarine

1/4 cup tablespoons dry sherry

1/4 cup lemon juice

1/2 teaspoon Sea salt

1/2 teaspoon cayenne pepper

1/2 teaspoon ground nutmeg

4 Puff pastry shells

Fresh parsley, finely chopped (for garnish)
Medium mixing bowl, mixing spoon, measuring spoons whisk, large saucepan, ladle, sharp carving knife Prep: 10 minutes prep Cook: 20 minutes Ready: 30 minutes Serves: 4
Before you handle any food, wash your hands thoroughly with soap and water. Clean your kitchen work area and pull back your hair or wear a cap. You want to avoid contaminating your meal with harmful bacteria that could cause food illness.
To make Creamy Lobster Newberg: 1. In a small bowl, whisk together egg yolks, sherry, and heavy cream until well blended. Set aside.
2. Melt butter in a saucepan over low heat. Add scallops and saute for 3-5 minutes until cooked. Remove scallops and set aside.
3. Blend flour in the melted butter and stir the mixture until the sauce thickens. Do not boil.
4. Remove from heat, and season with salt, cayenne, and nutmeg.
5. Add the lobster chunks, sauteed scallops, lemon juice, and salt. Continue to heat the mixture under low-med heat.
6. Ladle lobster and sauce inside puff pastry shells. Garnish with chopped parsley and serve immediately.
Servings Per Recipe: 4

Total Fat: 25.3g

Saturated Fat: 15.0g

Cholesterol: 235mg

Sodium: 757mg

Potassium: 345mg

Total Carbohydrates: 3.5g

Dietary Fiber: 0.1g

Protein: 19.3g

Sugars: 0g
The good news: Lobster is low in Saturated Fat. It is also a good source of Vitamin B12, Pantothenic Acid and Phosphorus, and a very good source of Protein, Zinc, Copper and Selenium, magnesium, vitamin E, and a small amount of omega-3 fatty acids.
The bad news: Lobster is high in Sodium, and very high in Cholesterol.
White wines, especially those with more mineral and vegetable notes, work better than fruit-oriented wines. Chardonnay with its delicious vanilla notes is an excellent choice to serve with lobster. Viognier, White Burgundy and Sauvignon Blanc are also perfect for pairing.
More variations of this recipe coming soon.