Rock Rousseau
World's Greatest Lemonade
Updated: May 25, 2020
No lie. Every year we make gallons of this lemonade for local charity fundraising events, and the response from those that drink this lemonade is "This is the best lemonade I have ever had!" and then buy another cup. The secret isn't the ingredients, but the ratio of sugar to lemon juice and the method for how it is made- which isn't simply adding sugar straight to lemon juice and water. Tart, sweet, and very refreshing!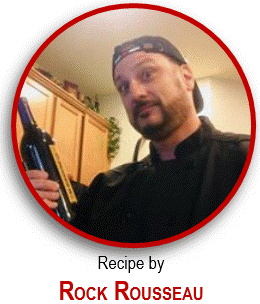 1-3/4 cups white sugar (for low cal/sugar-free, use same amount of Splenda sugar alternative)

8 cups Spring water

1-1/2 cups fresh lemon juice
Small saucepan, measuring cups, large pot, mixing spoon, pitcher larger than 2 quarts Prep: 30 minutes prep Cook: 5 minutes Ready: 4 hours Serves: 2-3 quarts
Before you handle any food, wash your hands thoroughly with soap and water. Clean your kitchen work area and pull back your hair or wear a cap. You want to avoid contaminating your meal with harmful bacteria that could cause food illness.
To make the World's Greatest Lemonade: 1. In a small saucepan, combine sugar and 1 cup of Spring water.
2. Bring to boil. Stir to dissolve the sugar and form a syrup.
3. Allow the syrup to cool to room temperature, then cover and refrigerate until chilled.
4. Strain lemon juice to remove seeds and pulp.
5. In a pitcher, add the remaining 7 cups water, chilled syrup, and lemon juice. Shake to thoroughly mix ingredients.
6. Refrigerate for at least 2 hours before serving. Serve cold with ice.
Calories: 72

Total Fat: 0 g

Saturated Fat: 0.0 g

Cholesterol: 0 mg

Sodium: 3 mg

Potassium: 24 mg

Total Carbohydrates: 19 g

Dietary Fiber: 0.1g

Protein: 0.1 g

Sugars: 18 g
When life gives you lemons, you're in luck. Lemons are full of vitamins, minerals, phytonutrients and antioxidants. Lemons are high in vitamin C, folate, potassium, flavonoids and compounds called limonins. Vitamin C is plays a role in immunity and helps neutralize free radicals in our body. Lemons also aid in Heart health, prevention of Kidney stones, Cancer and Liver disease.
Green Lemonade
Perfect for anyone on St. Patrick's Day! Follow recipe and add 5-6 drops of green food coloring after adding 7 cups of water. Garnish with mint leaves.
Irish Lemonade Cocktail