Rock Rousseau
Grilled Mexican Street Corn
Updated: May 25, 2020
You've had grilled corn on the cob before, but street corn raises the bar. A common Mexican street food, the elote is grilled corn on the cob coated with a mixture of Mexican cheese, mayo, sour cream, chile powder and lime before getting topped with more cheese. The combination of the sweet corn with the salty cheese and spicy chile powder makes for an epic side dish for any summer barbecue.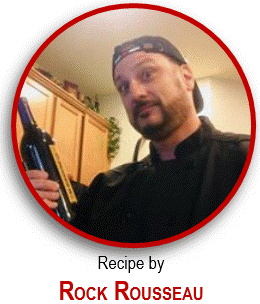 4 ears of corn on the cob

2 TBSN extra virgin olive oil

1/4 cup mayonnaise

1/4 cup sour cream

2 teaspoons lime zest

1 teaspoon ancho chile powder

1 teaspoon garlic powder

1 teaspoon salt

1 teaspoon cayenne pepper

2 TBSN cotija cheese, grated

2 TBSN queso fresco, grated or crumbled

1/4 cup cilantro, chopped (garnish)

Lime wedges, for serving
Medium mixing bowl, mixing spoon, measuring spoons, measuring cups, sharp carving knife, sheet pan Prep: 5 minutes prep Cook: 15 minutes Ready: 20 minutes Serves: 4
Before you handle any food, wash your hands thoroughly with soap and water. Clean your kitchen work area and pull back your hair or wear a cap. You want to avoid contaminating your meal with harmful bacteria that could cause food illness.
To make Grilled Mexican Street Corn: 1. On a sheet pan, toss the corn with the olive oil.
2. Grill corn on the cob directly on the hot grates, over medium heat for about 8-10 minutes, turning every couple of minutes.
3. Mix together mayonnaise, sour cream, and all seasonings.
4. Remove corn from grill and slather the corn on the cob with the spicy mayo mixture.
5. Sprinkle with cotija cheese, queso fresca, and chopped cilantro. Serve with lime wedges.
Calories 235

Total Fat 16 g

Saturated Fat 5 g

Cholesterol 24 mg

Sodium 302 mg

Potassium 270 mg

Total Carbohydrates 19 g

Dietary Fiber 2 g

Sugars 7 g

Protein 5 g
Sweet corn is loaded with lutein and zeaxanthin, two phytochemicals that promote healthy vision. Besides helping with weight loss, the insoluble fiber in corn feeds good bacteria in your gut, which aids in digestion and helps keep you regular.
Creamy, fruit forward Viognier or unoaked Chardonnay
More variations coming soon!