Rock Rousseau
Pina Colada Cream Cheese French Toast
Updated: May 25, 2020
An amazing breakfast for Springll! Soft and golden french toast with bananas, coconut, pineapple, and cream cheese! This french toast casserole is very simple to bake and you can also prepare this at night to make the following morning. I recommend leaving the prepared french toast casserole in the refrigerator overnight- the longer the bread soaks, the tastier the casserole. Be sure to review the notes in Ingredients for Keto, Gluten-Free, Vegan, and Low Cal ingredient alternatives.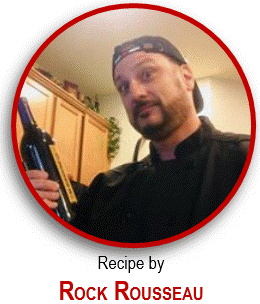 For French Toast:
1 loaf Hawaiian sweet bread, shredded into bite sized-pieces (Gluten-Free, Low cal, and Keto diets can use preferred bread alternative)

6 large eggs (Vegans can replace using "Flegg" egg alternative)

2 cups whole milk (Gluten-Free and Vegan diets can replace with Coconut milk)

1/2 cup Cream of Coconut

2 TBSN Malibu Caribbean Rum

2 bananas, sliced in bite-sized pieces

1/2 cup toasted coconut flakes

1/2 cup pineapple tidbits
For Cream Cheese Topping:
12 oz whipped plain cream cheese (Vegan or Gluten-free: replace with dairy-free cream cheese alternative)

1 large egg (Vegans can replace using "flegg" egg alternative)

1/2 teaspoon vanilla extract

2 TBSN Cream of Coconut
9 x 13 baking pan, cooking spray, large mixing bowl, whisk, ladle, medium mixing bowl, small mixing bowl, preferred pancake syrup (I recommend Coconut Pancake Syrup)
Prep: 10 minutes
Cook: 45 minutes in oven Ready: 55 minutes Serves: 8-10
Before you handle any food, wash your hands thoroughly with soap and water. Clean your kitchen work area and pull back your hair or wear a cap. You want to avoid contaminating your meal with harmful bacteria that could cause food illness.
To make Pina Colada Cream Cheese French Toast:
1. Preheat oven to 350 degrees F. and thoroughly coat a 9×13 inch baking pan with cooking spray.
2. Evenly spread the bread pieces in the pan.
3. In a large bowl, whisk together eggs, milk, Malibu Rum, pineapple tidbits, and 1/2 cup cream of coconut until well combined.
4. Pour and spoon over bread and mix until bread pieces are saturated with egg mixture.
5. Bake uncovered for 30 minutes.
6. In a medium mixing bowl, combine cream cheese, toasted coconut, one egg, 2 TBSN Cream of Coconut and whisk until creamy.
7. Remove pan from oven. Drizzle the cream cheese mixture over the french toast mixture.
8. Bake uncovered for 15 minutes.
12. Serve immediately with preferred pancake syrup. I recommend Homemade Coconut Pancake Syrup.
1 serving: 200 calories, 3 g fat (0 saturated fat), 6 g cholesterol, 12 g sodium, 0 carbohydrate (40 g sugars, 46 mg fiber), 10 g protein.
Vegans and vegetarians rejoice! This is Vegan-friendly recipe when using Vegan-friendly milk, egg replacer, and bread. For a list of Vegan alternatives and substitutes for these ingredients, check out our post on DIY Vegan Ingredient Alternatives. Kick the GLUTS! It's all good, because this recipe is gluten-free when using Gluten-free sweetener, bread, and whole milk (not malt-based.) For a list of Gluten-free alternatives and substitutes for these ingredients, check out our post on DIY Gluten-Free Ingredient Alternatives.
Low Cal/Carb- Use your preferred sugar-free or low carb alternatives instead of brown sugar and maple syrup.