Rock Rousseau
Guinness® & Cheese Pull Bread
Updated: May 25, 2020
Perfect for a St. Patrick's Day gathering or game time. Serve as an appetizer or any party that includes lovers of Irish beer and cheese. This checkerboard sliced loaf of sourdough is soaked in a Guinness® beer and butter marinade, and baked with tons of shredded Cheddar cheese. You may want to make two because one may not be enough for everyone!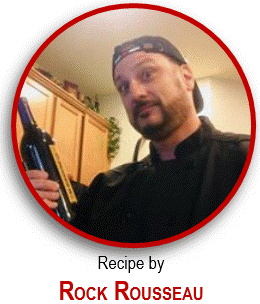 1 large round of sourdough bread (or loaf of gluten free bread, unsliced)

1 stick Kerrygold Irish Butter, melted (or preferred Vegan or Gluten-free butter)

2 TBSN garlic, minced

2 TBSN fresh green onion, chopped

1/3 cup preferred Guinness® Draught beer (or preferred Gluten-free beer)

2 cups Sharp Cheddar cheese, shredded (or preferred Vegan-friendly cheddar cheese alternative)
Medium mixing bowl, mixing spoon, measuring spoons, aluminum foil, baking sheet, marinating brush, measuring cups, sharp serrated knife Prep: 10 minutes prep Cook: 35 minutes Ready: 45 minutes Serves: One loaf serves 4-6
Before you handle any food, wash your hands thoroughly with soap and water. Clean your kitchen work area and pull back your hair or wear a cap. You want to avoid contaminating your meal with harmful bacteria that could cause food illness.
To make Guinness® & Cheese Pull Bread: 1. Preheat oven to 350 degrees F.
2. Using a serrated knife, cross-cut the loaf of bread, making slices every inch around the loaf in both directions.
3. In a small bowl, stir together melted butter, Guinness beer, garlic, and chives.
4. Use marinating brush to brush the entire loaf with all of the butter beer mixture, especially inside all of the crevices.
5. Stuff all crevices with shredded Cheddar cheese and sprinkle some on top.
6. Wrap the loaf completely in foil and place on baking sheet.
TIP: You can also refrigerate the loaf and bake up to 4-6 hours later.
7. Bake for 20 minutes, then unwrap foil and bake 15 minutes more. Serve hot with forks to help pull bread portions from the loaf.
1 serving: 315 calories, 9 g fat (4 g saturated fat), 330 mg cholesterol, 1300 mg sodium, 15 g carbohydrate (6 g sugars, 2 g fiber), 30 g protein.
Cheddar cheese contains a high concentration of protein and calcium. Beverage pairing: For adults, a strong or pale ale.
Go with a Guinness® beer instead.
Cheddar, Bacon and Beer Pull Bread
Follow recipe and sprinkle bacon crumbles inside all of the bread crevices.
Southwest Spicy Beer Pull Bread
Follow recipe and add 2 TBSN Tabasco hot sauce to mix with butter. Use a Mexican blend of shredded cheese including Cheddar, Monterrey Jack, or Queso Blanco cheese. Sprinkle with chopped green onion and green chilies.