Rock Rousseau
Bacon, Beer & Cheese (& Chicken) Soup
Updated: May 25, 2020
Imagine these essential comfort foods in your soup bowl: melted Cheddar cheese, Guinness® beer, smoky bacon, and pulled chicken. It is thick and creamy, amazingly cheesy with just the perfect spices to satisfy the heartiest of appetites. Perfect for cold winter tailgating or taking on the road in your food thermos.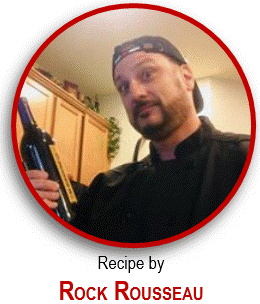 6 slices thick-cut bacon

1 lb boneless skinless chicken breast (see my recipe for Perfect Pulled Chicken)

4 TBSN Kerrygold Irish butter (or preferred Vegan-friendly or Gluten-free butter)

1/4 cup preferred all-purpose flour

2 teaspoons garlic, minced

1 large yellow onion, diced

1 teaspoon smoked paprika

2 teaspoons preferred salt

1 cup blonde Irish beer (I recommend Guinness Blonde)

1 cup chicken stock

2 cups heavy whipping cream (or Vegan-friendly milk)

4 cups sharp cheddar cheese, shredded (or Vegan-friendly Cheddar cheese alternative)

1 teaspoon Worcestershire sauce
For garnish:
Chives, chopped

Croutons

Bacon, crumbled
Plate lined with paper towels, mixing spoon, measuring spoons, measuring cups, whisk, food shears, sharp knife, large stock pot, tongs Prep: 10 minutes prep Cook: 60 minutes Ready: 70 minutes Serves: 4-6
Before you handle any food, wash your hands thoroughly with soap and water. Clean your kitchen work area and pull back your hair or wear a cap. You want to avoid contaminating your meal with harmful bacteria that could cause food illness.
To make Bacon, Beer & Cheese (& Chicken) Soup: 1. Prepare Perfect Pulled Chicken. Click here for this recipe! Follow the recipe but do not use barbecue sauce and brown sugar. Use the Italian dressing and Worcestershire sauce to keep pulled chicken moist.
2. Warm an 8-quart pot over medium-high heat.
3. Using food shears (scissors); cut bacon half-sized strips and add into the pot.
4. Cook bacon until crisp, about 4-6 minutes.
5. Use tongs to transfer bacon pieces to a paper towel-lined plate to let drain. Crumble when cooled.
6. Add onion and garlic to pot with residual bacon fat and cook until translucent, about 3-5 minutes.
7. Add pulled chicken pieces into bacon grease to sauté for 3-5 minutes and sprinkle with a teaspoon of salt.
8. Using tongs, transfer chicken from the pot and place on the dish with crumbled bacon.
9. Add butter into pan drippings. Stir until melted. Reduce heat to low.
10. Whisk in flour and all seasonings to create a roux. Allow to cook for 1 minute, whisking frequently to keep roux smooth and remove any lumps of flour.
11. Slowly add beer and whisk frequently to combine and cook for 2 minutes.
12. Add chicken stock and heavy whipping cream. Whisk to combine and raise heat to medium.
13. Slowly add the cheese; if you add the cheese too quickly it can become lumpy, so add a little at a time so the cheese and gradually melt and whisk the soup until it is smooth.
14. Add Worcestershire sauce and return chicken and bacon back into the pot. Stir to to thoroughly combine all soup ingredients.
15. Allow to simmer until ready to serve, stirring occasionally.
16. Serve warm. Garnish with croutons, chives, and bacon.
Calories: 565

Total Fat: 40 g

Saturated Fat: 24 g

Cholesterol: 120 mg

Sodium: 910 mg

Potassium: 495 mg

Total Carbohydrates: 21 g

Dietary Fiber: 2 g

Protein: 27 g

Sugars: 9 g
Cheddar cheese contains a high concentration of protein and calcium.
Chilean Cabernet Sauvignon or a vintage port wine. But you really should just enjoy with a pale ale Irish beer, like Guinness.
Spicy Cheese & Beer Soup
Follow recipe and add a TBSN of Cayenne pepper and a TBSN of hot sauce.
Veggie Celebration Cheese & Beer Soup
Follow recipe and do not include pulled chicken. Replace bacon with Vegan-Friedan bacon alternative. Use a Vegan-friendly Cheddar cheese, milk, and butter alternative. Adding shredded carrots instead of chicken also adds to the flavor.
Lower Carb/ Gluten Free Cheese & Beer Soup
Use preferred low-carb gluten-free beer, milk, butter, and cheese alternatives.