Rock Rousseau
Homestyle Corned Beef Hash
Updated: Jan 19, 2020
Our home style corned beef hash blends red potatoes, diced yellow onions, and fresh chopped Corned Beef. Baking this recipes allows everything to cook everything evenly and browns with some crispiness around the edges. I personally love laying a sunny side-up fried egg on top; with a runny yolk dripping down onto everything. Delicious!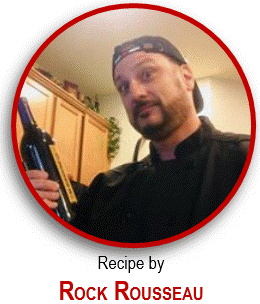 1 lb. corned beef, chopped

1 lb. red potatoes, cut into bite-sized chunks

1 yellow onion, chopped

2 TBSN extra-virgin olive oil

2 TBSN Worcestershire sauce

1 teaspoon garlic powder

1 teaspoon dried oregano

1 teaspoon fresh parsley, chopped

Fried eggs (optional)
Medium mixing bowl, mixing spoon, measuring spoons, aluminum foil, measuring cups, large baking pan Prep: 15 minutes prep Cook: 60 minutes Ready: 75 minutes Serves: 4-6 Before you handle any food, wash your hands thoroughly with soap and water. Clean your kitchen work area and pull back your hair or wear a cap. You want to avoid contaminating your meal with harmful bacteria that could cause food illness. To make Home-style Corned Beef Hash: 1. Preheat oven to 450 degrees F.
2. Coat the inside of baking pan with cooking spray.
3. In a mixing bowl, add chopped corned beef, potato chunks, chopped onion, olive oil, Worcestershire sauce, and garlic powder. Toss until all ingredients are well mixed.
4. Transfer mixture to the baking pan and cover with aluminum foil.
5. Bake for 30 minutes and use spatula to mix ingredients. Bake 30 more minutes.
6. Remove from oven. Garnish with fresh chopped parsley and top with a fried egg or two (optional). Sprinkle oregano on top and serve.
Calories 365 - Fat 25 g - Carbs 25 g -Protein 20 g
Corned beef contains selenium which has anti-inflammatory properties, promotes good heart health, and can reduce oxidative stress. With 40% DV of phosphorus and 3% DV of calcium, corned beef also contributes to overall bone and teeth health. For wine enthusiasts, save it for later. Enjoy this breakfast with an Irish Creme coffee. Need DINNER MUSIC? Click here and check out our Playlists on YouTube for perfectly themed music to set the ambiance of your meal!
Cheesy Corned Beef Hash
Follow recipe and add a cup of your favorite shredded cheese on top for the last 15 minutes of baking.
Guinness Corned Beef Hash
Follow recipe and have chopped potatoes and onions soak for 24 hours in a Ziplock bag with a bottle of Guinness Extra Stout.