Rock Rousseau
Salmon New Orleans in Cajun Butter Sauce
Updated: May 25, 2020
Salmon New Orleans is an unforgettable meal from the Big Easy that your family will love! Savory pan-seared salmon topped with sautéed shrimp in an unforgettable Cajun butter sauce. You won't need to take a trip to the bayou to enjoy this, because it only requires a handful of seasonings mixed with bubbling melted butter. Your salmon and shrimp will love being smothered in this incredible Cajun butter sauce!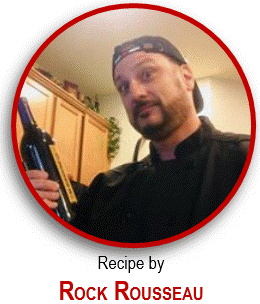 Four 6-oz Atlantic Salmon, skinless fillets

1 pound jumbo white shrimp, peeled and de-veined

2 TBSN preferred butter

2 TBSN Orange Blossom honey

2 TBSN fresh parsley, chopped (optional, for garnish)
For Cajun Seasoning Blend
1 TBSN Sweet Paprika

1 teaspoon salt

1 teaspoon garlic powder

1/4 teaspoon white pepper

1 teaspoon onion powder

1 teaspoon cayenne pepper

1 teaspoon dried oregano

1/2 teaspoon crushed red pepper flakes

1/2 teaspoon dried Thyme leaves
For Cajun Butter Sauce
Small can chicken stock

6 TBSN preferred butter, softened

1 TBSN preferred all purpose flour

1/2 cup heavy cream

1 teaspoon lemon juice
Small mixing bowl, mixing spoon, measuring spoons, aluminum foil, measuring cups, large sauce pan, whisk. Prep: 10 minutes prep Cook: 20 minutes Ready: 30 minutes Serves: 4
Before you handle any food, wash your hands thoroughly with soap and water. Clean your kitchen work area and pull back your hair or wear a cap. You want to avoid contaminating your meal with harmful bacteria that could cause food illness.
To make Salmon New Orleans in Cajun Butter Sauce: 1. In a small bowl, stir together all Cajun seasoning ingredients and set aside.
2. Melt 2 tablespoons butter in a large skillet over medium-high heat.
3. Add honey and whisk to combine. Heat until mixture begins to bubble. Season one side of the fillets with a teaspoon of the Cajun seasoning blend. Leave some seasoning to add to the butter sauce.
4. Add salmon fillets to pan and cook4.for 5-6 minutes. Using tongs, flip fillets and cook for 7-8 minutes until all salmon fillets are cooked through, flaky, and browned.
5. Transfer salmon to a platter and cover with aluminum foil to keep warm.
6. Add 6 TBSN of butter to the same pan over medium heat.
7. Once butter is melted, add shrimp to pan.
8. Sprinkle shrimp with the remaining Cajun seasoning blend, and saute until opaque, about 4-6 minutes.
9. Remove shrimp and add to top of salmon fillets. Recover with foil.
10. Combine chicken stock to Cajun butter mixture and boil on high heat, uncovered.
11. Slowly whisk in flour until the sauce begins to thicken. Continue to whisk mixture to remove any lumps. Reduce to low heat.
12. Add lemon juice and heavy cream. Stir and remove from heat.
13. Serve salmon topped with shrimp and ladle Cajun butter sauce over the top of both.
14. Garnish with chopped parsley and serve immediately.
1 serving: 110 calories, 6 g fat (2 g saturated fat), 200 mg cholesterol, 190 mg sodium, 1 g carbohydrate (0 sugars, 0 fiber), 11 g protein.
Salmon is rich rich in Omega-3 Fatty Acid and is one of the best sources of the long-chain omega-3 fatty acids EPA and DHA. Salmon is a great source of protein, high in B vitamins, potassium, selenium and the antioxidant Astaxanthin. Aside from protein, shrimp contains over 100% of the Daily Value for selenium, over 75% for vitamin B12, over 50% for phosphorous, and over 30% for choline, copper, and iodine.
Pinot Noir, Gamay, or if you prefer a white wine, go with Pinot Noir.
Vegan and vegetarian. Replace salmon with zucchini cut in half lengthwise. Replace shrimp with mushrooms and cherry tomatoes. Replace chicken stock with vegetable stock. Use preferred vegan-friendly cream.
Kick the GLUTS and use gluten-free butter.
Pump up the protein with larger portions of salmon or additional shrimp.