Rock Rousseau
Corned Beef Grilled Cheese
Updated: May 25, 2020
There is no more perfect sandwich for St. Patrick's Day than a Corned Beef Grilled Cheese. A stack of salty corned beef, topped with sweet caramelized onions and cabbage cooked in Guinness beer, and a blend of melted Jarlsberg and Fontina cheeses, housed in grilled Marble Rye bread. This is the perfect St. Patrick's Day grilled sandwich.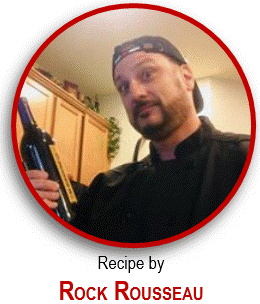 4 TBSN Irish butter, divided (I recommend Kerry's Irish Butter)

1 medium yellow onion, thinly sliced

1/2 cup of cooked cabbage

2 TBSN sugar

One 12 oz bottle Guinness dark stout beer (optional)

8 oz deli-sliced corn beef, cut into thin strips

1 TBSN Worcestershire sauce

1 TBSN preferred mustard (I recommend spicy beer mustard)

8 slices Jarlsberg cheese

8 slices Fontina cheese

8 slices marble rye bread
Medium mixing bowl, mixing spoon, measuring spoons, tongs, large saucepan or griddle, sharp carving knife, marinating brush Prep: 5 minutes prep Cook: 25 minutes Ready: 30 minutes Serves: 4 sandwiches
Before you handle any food, wash your hands thoroughly with soap and water. Clean your kitchen work area and pull back your hair or wear a cap. You want to avoid contaminating your meal with harmful bacteria that could cause food illness.
To make Corned Beef Grilled Cheese:
1. Melt 2 tablespoons butter in a large pan over medium heat. Add sliced onion and cooked cabbage. Sprinkle with sugar.
2. Saute until golden, stirring occasionally, about 10 minutes.
3. Add beer and continue cooking until liquid turns slightly syrupy, about 8 to 10 minutes.
4. Remove from heat and stir in Worcestershire sauce and mustard.
5. Add the slices of corned beef and stir to mix all the ingredients so the corned beef is covered with the butter and beer mixture.
6. On each slice of bread, lay a slice of Fontina and Jarlsberg cheese.
7. Top four slices with the corned beef mixture. Top with the remaining 4 slices of bread so that the corned beef is sandwiched between slices of cheese.
8. Melt the remaining 2 TBSN of butter and use a marinating brush to coat all outside layers of the bread generously with melted butter.
9. On a griddle or large pan, grill the sandwiches on med-high heat until lightly browned and crispy, about three 3-4 minutes. Use tongs or a flat spatula to turn sandwiches over to grill on the other side.
10. Remove from heat and use a sharp knife to cut sandwiches in half and stack.
Calories: 611kcal | Carbohydrates: 15 g | Protein: 35 g | Fat: 50 g | Saturated Fat: 25 g | Cholesterol: 150 mg | Sodium: 1875 mg | Potassium: 780 mg | Fiber: 5g | Sugar: 7g
Corned beef contains selenium which has anti-inflammatory properties, promotes good heart health, and can reduce oxidative stress. With 40% DV of phosphorus and 3% DV of calcium, corned beef also contributes to overall bone and teeth health. For wine enthusiasts, save it. Open a beer, preferably Guinness.